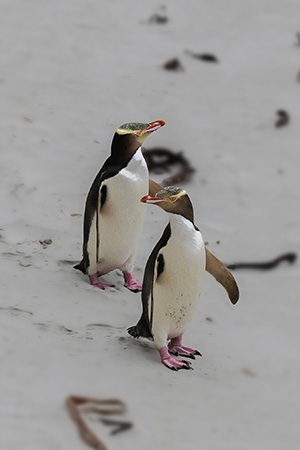 Wildlife Tours

on the Otago Peninsula, Dunedin
We offer real wildlife experiences. View penguins, fur seals, albatross in their natural environments - the way nature intended it to be.

Opportunities to see the world's rarest penguins, Hoiho or Yellow-Eyed Penguin, and Blue Penguins as they freely go about their lives on Penguin Beach.

View NZ Fur Seals - as a breeding ground we see female, male, and young pups throughout the year.

Family run, family-owned and driven by restoring our natural world for future generations. Natures Wonders is Otago's most unique private conservation project.
OUR TOURS
Truly unique wildlife experiences in Dunedin, Otago
Book today for an unforgettable journey into nature's wonders.
RICK C - ADELAIDE
Australia
---
This was an amazing experience, we seen seals and Penguins in this natural setting. A family owned and managed reserve. Penguins were not around much at this time of year but were lucky enough for one to come up the beach while we were there. A wonderful time, lots of information and a ride on a six wheeler was a highlight as well.
TOLUCE
Canada
We toured the property in an Argo. Our guide took us to the top of a hill for a gorgeous view of the ocean. Then we visited the six week old seal pups. We learned a lot about the life and habitat of the seals. We were very lucky and saw a very rare yellow-eyed penguin. We also saw quite a few little blue penguins in their nest boxes.
BHW4TRAVEL
HINGHAM
This was a fabulous place to visit. The scenery is spectacular. Our guide was Perry who was incredible. His commitment to preserving this special place in its natural form was inspiring. Go visit if you can